ClinCheck Pro
with 3D Controls.
More precise control to help you achieve your treatment goals.
"By allowing to see modifications in real time, ClinCheck Pro is of tremendous use. ClinCheck Pro has become the extension of my thoughts, having that extra bit of control is priceless. It allows me to deliver what I promise."
Dr. Sam Daher.
Precise design of final tooth position in your ClinCheck treatment plan is essential to help you deliver the treatment results you expect.
New ClinCheck Pro with 3D Controls provides more precise control over the final tooth position to help you achieve your treatment goals.

3D Controls enable you to more precisely control your treatment goal for each patient by making adjustments directly on the 3D model and visualising the effects on the whole dentition in real time.

When the 3D Controls are activated you can revise treatment plans by making 3D adjustments, providing text comments, or combining both for maximum flexibility. If you choose not to activate the 3D Controls you can still provide text comments to your technicians.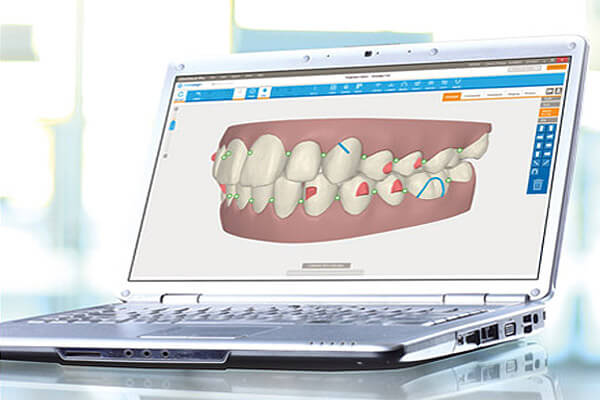 The toolbar.
The 3D Controls toolbar includes four tools to make adjustments directly on the 3D model.
Tooth adjustments.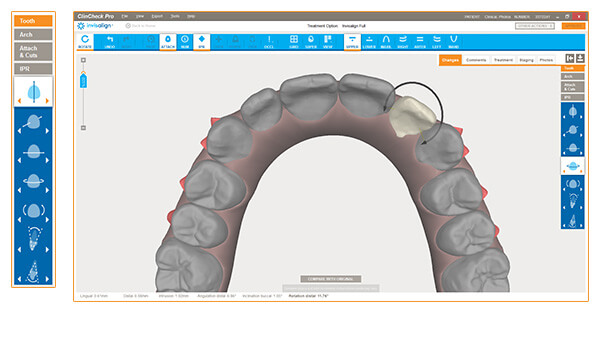 This 3D tool allows you to position a tooth more precisely:
You can make tooth adjustments directly on the 3D model: extrusion/intrusion, translation, rotation, crown angulation, root torque and crown tip.

As you adjust one tooth all other teeth in the same arch will automatically adjust in response.

You can lock and keep a particular tooth at a desired position, and designate a tooth as unmovable for the duration of a treatment (e.g. crowns, implants).
Attachments and Precision Cuts.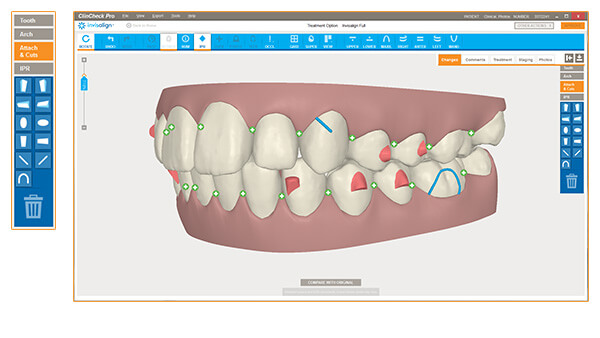 With the 3D Controls for attachments and Precision Cuts you will be able to:
Add conventional attachments and Precision Cuts by simply dragging and dropping to the tooth of choice. And easily remove attachments and Precision Cuts by dragging them to the trash can.

Adjust the placement and rotate conventional attachments, and change the size, prominence and degree of bevelling of rectangular attachments.

Fine-tune the mesiodistal position of Button Cutouts.
Posterior arch expansion and contraction.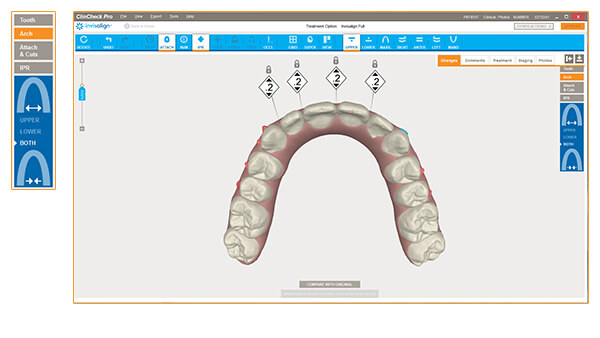 The Arch 3D tool allows you to expand or contract posterior arches:
You can choose to expand or contract:
Upper arch only.

Lower arch only.

Both arches.
As for the rest of the 3D Controls, when you make an arch modification on the 3D model, all other teeth in the adjusted arch will automatically adjust in response, and comments will be automatically generated in the Comments tab.
IPR and Space management.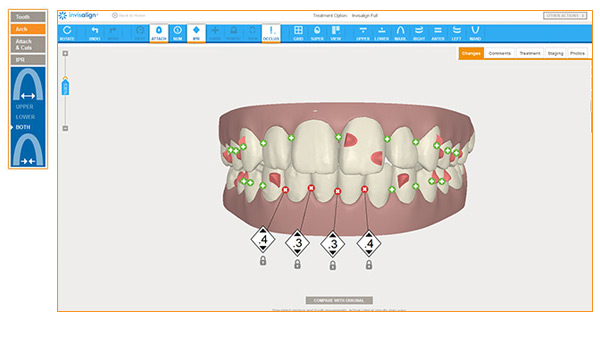 With the IPR and spacing 3D Controls you can choose to:
Select the Auto adjust option: IPR and space automatically adjusts as you make adjustments on the 3D model.

Select the Keep current option: to preserve the current IPR configuration.

Select the No IPR option: all existing IPR will be removed, and no IPR will be added.

Manually adjust IPR and space on the 3D model (add, remove or lock for specific teeth).
ClinCheck Pro with 3D Controls also includes additional
new and improved features.
New features.
Photos.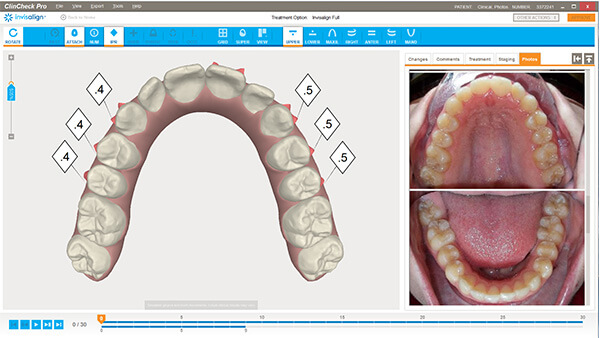 New Photos tab is now available. Treatment photos and X-ray can be viewed simultaneously with the 3D model of your patient's treatment plan.
Occlusal contacts.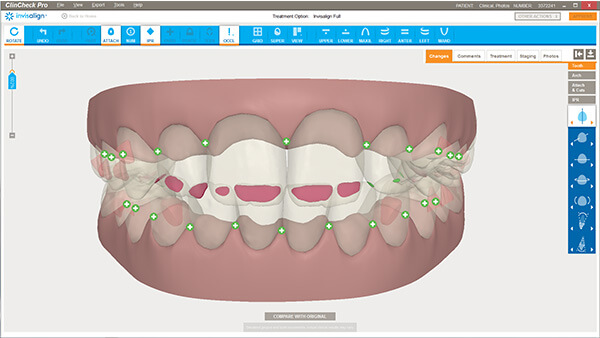 ClinCheck Pro with 3D Controls, allows you to identify all inter-arch occlusal contacts, and resolve heavy occlusal contacts directly on the 3D model.
Dual view.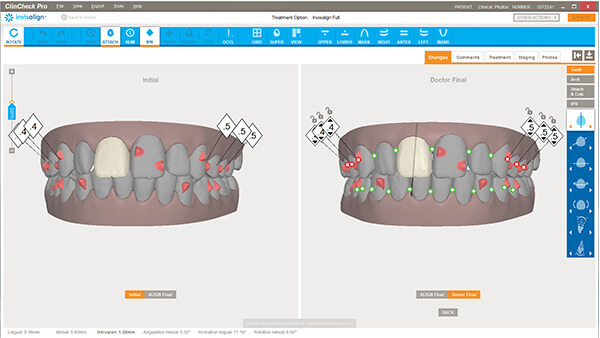 In dual view, modifications made using 3D Controls may be compared side-by-side with the original set up from Align or initial malocclusion. You can also use dual view when typing comments.
Bolton Analysis.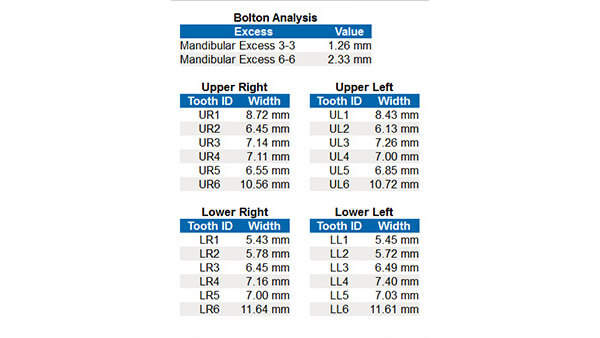 The new Bolton Analysis tool, provides reference information pertaining to tooth size discrepancy that is useful for planning how to address tooth interdigitation and arch coordination.
Grid.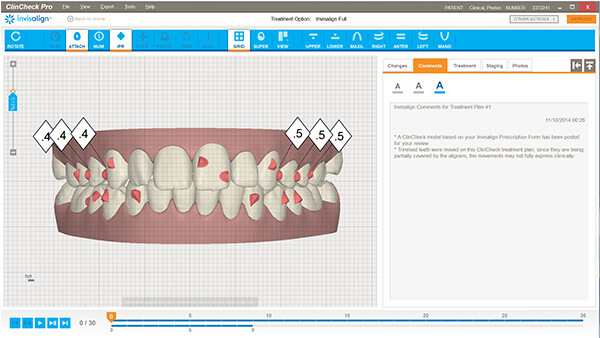 You can now position the 3D model on the grid to measure linear tooth movements. The improved grid provides more precise control to measure what you need on the 3D model.
Superimposition.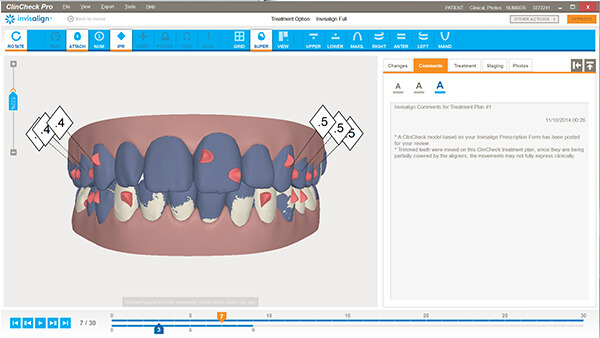 With improved Superimposition, you can now superimpose tooth position at any stage in relation to tooth position at any other stage, and control which stage is blue and which stage is white for a better visualisation between stages.
Learning resources.
To help Providers make the most of ClinCheck Pro, we have created a series of video tutorials that offer a comprehensive guide to its new features and clinical applications.
Please be aware that, if you have Windows XP as the operating system on your computer, the experience may not be optimal, especially when using the 3D Controls palette. Moreover, Windows XP is not supported anymore by Microsoft, potentially exposing your computer to security risks and performance issues overall. We recommend upgrading your computer to match at least the minimum requirements stated for ClinCheck Pro, and ideally to match the optimal requirements. Please check the minimum and optimal requirements for ClinCheck Pro in the Support tab of your Invisalign Doctor Site (IDS).
Privacy & cookies
|
Manage Cookies
| ©2000-2022 Align Technology, Inc. All rights reserved.